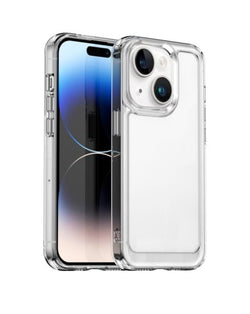 Banana Cellular Solutions
iPhone 15 Plus Hybrid Case with Air Cushion Technology - CLEAR
Air Cushion Technology: Our hybrid case features advanced Air Cushion Technology that absorbs shocks and impacts, providing top-tier protection for your iPhone 15 Plus.

Crystal Clear Design: Designed for those who want to showcase their device's elegance, this case is completely clear, allowing your iPhone 15 Plus's beauty to shine through.

Precise Fit: Tailored exclusively for the iPhone 15 Plus, this case offers precise cutouts for all buttons, ports, and functions, ensuring full access and functionality.

Slim Profile: The slim and lightweight design maintains the sleek profile of your iPhone 15 Plus without adding unnecessary bulk.

Easy Installation: No more struggles during case setup. Our user-friendly design allows for hassle-free installation and removal when needed.