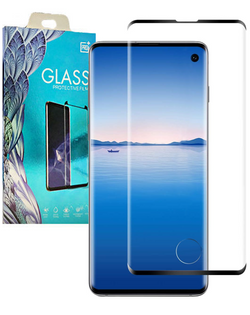 Galaxy S10 Tempered Glass/Support Fingerprint Sensor
Tempered glass will protect your screen by absorbing the force of direct impacts on hard surfaces, and protects against scratches from contact with coins in your pocket to sharp objects.
 DESCRIPTION:  Brand new Premium Tempered Glass Screen Protector with fingerprint support for Samsung Galaxy S10. 3D-Curved, Case Friendly, 9H hard-coated scratch resistant protection. Scratching card, cleaning cloth, dust collector, removing tapes included.